Discover Premium Electric Fireplaces in Mansfield, Ohio
Enjoy the cozy feel of a fireplace with or without the additional heat!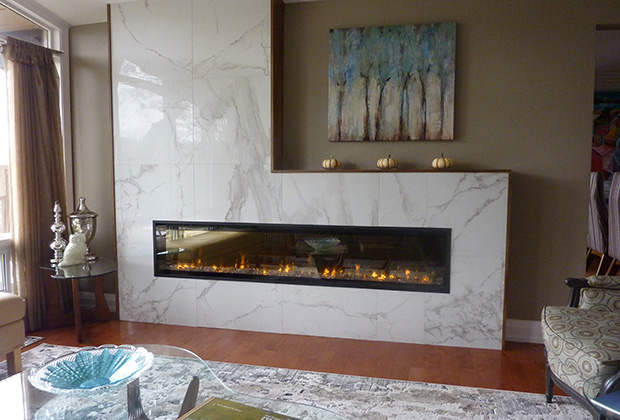 We specialize in offering a diverse selection of electric fireplaces within Mansfield, Ohio, in a myriad of styles. Our units can be seamlessly installed into spaces of choice, such as existing, non-operational fireplaces, directly flush with walls, or incorporated within entertainment centers. With seemingly endless customization options available, two fundamental types of electric fireplaces stand at the core of our offerings – fireplace inserts and full fireplaces.
Electric Fireplace Inserts - A Fresh Life to Old Fireplaces

Electric fireplace inserts are ingeniously designed to nestle within an existing wood fireplace, creating an aesthetic and functional upgrade. These inserts in Mansfield, Ohio, offer the comforting glow of a fire which can be enjoyed both with and without the heat option. With our fireplace inserts, you can rejuvenate your old fireplace into a modern, convenient, and efficient heat source sans the maintenance of its wood counterparts.
Electric Fireplace Units - Diverse Styles for Your Richland County Home

In Richland County, we provide electric fireplace units that enrich your home with warmth and style. Depending on your style and preference, these units can take various forms - standalone fireplace, mantel incorporated, or an integral part of media centers. Whether it is hardwired into your home's electrical system or a plug-and-go model for easy repositioning, our electric fireplace units offer unrivaled versatility.
For those aiming for a truly unique look, we offer electric units that can be installed into walls, designed to sit flush for a sleek, understated look or offset to protrude inward or outward for a bold, statement piece.
At Mansfield, Ohio, we ensure that our tailor-made electric fireplaces not only act as a heat source but transform your living space into a cozy hub of elegance and warmth. Embrace the comfort and convenience of our electric fireplaces and elevate your indoor living experience today.